Where Can You Find Precision Machining in Illinois?
For businesses part of the manufacturing industry, it's crucial to secure precise and accurate production means for various parts, tools and products. Industries like aerospace, automotive, healthcare and more all require precise and high-quality components to ensure high production rates with minimal errors. Thus, SMF Inc. strives to meet manufacturers' needs with precision machining in Illinois and the surrounding states.
Do You Need Precision Machining?
Through precision machining, computerized controls are used to operate machinery for milling, turning, drilling, boring and additional machining operations. Such is done to ensure accuracy, quality and consistency across all products. For many businesses, precision machining is essential as it ensures:
High Production Rates – Standard machining can't keep up with the high production rates of precision machining. Once a part design is programmed into our machines, we can continually produce the same pieces to your exact specifications with incredible speed.
Accuracy – While we have great confidence in our machine operators, human labor is, unfortunately, less accurate than what a computer can do. For this reason, precise machining is best for creating small and precise parts that require incredible accuracy to create.
Consistency – Besides accuracy, consistency is important when producing multiple parts. If parts aren't consistent with one another, you risk breakdowns, malfunctions or errors for the machines or products they are used for. Precision machining produces the same results for every component.
Less Waste – One significant benefit of precision machining is the lack of material waste it produces. Although machining primarily consists of subtractive manufacturing, the accuracy and consistency of precision machining mean fewer errors or defects. Thus, minimal bad products are disposed of, and production costs can be kept lower.
Increased Safety – Precision machining is a safe production process that eliminates some of the dangers of mishandled machinery or product malfunctions. Fabricators and clients can ensure their safety with error-free components created using computerized controls.
Our Other Capabilities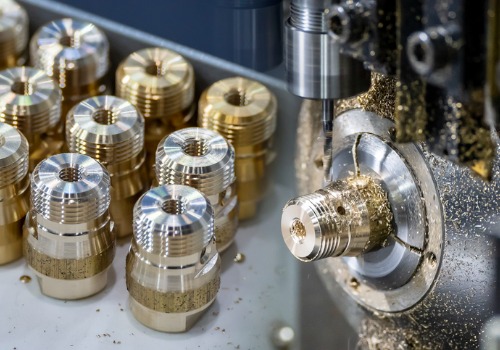 In addition to precision machining in Illinois, SMF Inc. offers numerous metalworking services to our clients. To ensure our services as a full-service metal fabrication company, we employ metal working experts well versed in numerous capabilities. Our services enable us to provide high-quality parts and products, no matter their size or complexity. SMF's capabilities include:
Call Today
If you need quick, consistent and high-quality metal fabrication, you can rely on SMF Inc. and our precision machining for Illinois manufacturers. To learn more about our company and capabilities, contact SMF today at 309-432-2586. SMF has facilities in Illinois and South Carolina, serving clients throughout the United States.