Make Use of Expert Metal Fabrication Services
Industries throughout the United States rely on the work performed by metal fabrication experts. Whether creating large platforms or small parts, metal fabricators possess incredible versatility. Moreover, having metal fabricators who are quick, reliable, and experienced in their field can prove advantageous to your company's production. For this reason, many businesses and industries count on the work provided by SMF Inc.
Types of Metal Fabrication
Metal fabrication typically falls under one of three categories: industrial, structural or commercial. As metal fabrication encompasses parts, products and projects across every industry, these categories make it simple to understand the type of fabrication that might best suit your business.
Industrial Fabrication

As the name implies, industrial fabrication is focused on metal fabrication more commonly reserved for factories, manufacturing facilities, and other industrial businesses. Through industrial fabrication, SMF integrates various parts or assemblies into industrial products. Such industrial parts and structures include heavy machine parts, silos, tanks, tools, and more. As a part of industrial fabrication, we typically serve industries such as aerospace, automotive, energy, engineering, etc.

Structural Fabrication

Metal parts and products play a significant role throughout the construction industry. Thus, SMF produces various parts and components for building purposes. Known as structural fabrication, we fabricate products such as I-beams or frames, which are integral to the integrity of structures. Such products support the completion of residential, commercial and industrial construction projects throughout the United States.

Commercial Fabrication

Every product not covered under industrial or structural fabrication falls into the commercial fabrication category. Through commercial fabrication, SMF creates parts for use in venues such as stores, public spaces, municipal buildings, etc. Such parts are typically smaller and more precise than other fabricated components. However, commercial fabrication can also be decorative, helping produce signs, awnings, light fixtures, fencing, and more.
Our Fabrication Applications
As a full-service metal fabrication and part assembly facility, SMF Inc. employs all types of fabrication processes. We can form, cut, bend, and craft steel, copper, aluminum and other metals into any shape you desire. Our capabilities include: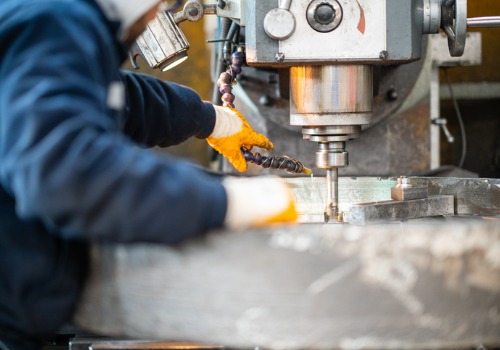 Call Today
When seeking dedicated metal fabrication experts with a breadth of fabrication capabilities, look no further than SMF Inc. To learn more about what we can offer your business, contact us today at 309-432-2586. SMF is headquartered in Illinois, serving clients throughout the United States.