Support Your Facility's Productivity with Precision Machining in Charleston SC
Many manufacturing facilities across South Carolina don't possess the means to craft small, precise, specialized components. However, such components are often necessary for the larger products your facility does create! As such, finding metal fabricators who offer precision machining in Charleston SC is a top concern for most manufacturers. Thankfully, local precision machining is available through the experts at SMF Inc.
Who Needs Precision Machining?
The need for precision machining is significant across multiple manufacturing companies and industries. From car production to medical equipment, precision machining is utilized more than you might realize. At SMF Inc., some of the industries we've seen most take advantage of precision machining include:
Automotive Industry – Auto manufacturers produce hundreds of parts daily and construct dozens of unique vehicle makes and models. However, for minor components in your vehicles, much of this part production is managed through precision machining. Using precision machining, auto manufacturers can keep up with production and consumer demands.
Medical Industry – For hospitals, urgent cares and medical facilities, having medical equipment function with accuracy and without error is essential to the care and health of patients. And to ensure the highest level of accuracy and the lowest risk of error, the healthcare industry relies on specialized machine components crafted via precision machining.
Energy Industry – The parts and components used for electric transformers, power relays, and equipment throughout the energy industry must be able to undergo extreme stress and pressure to continue functioning at maximum efficiency. Thankfully, parts crafted through precision machining have incredible strength and a high-stress tolerance.
Aerospace Industry – Every piece of an airplane must work in perfect harmony to achieve the incredible feat of flight! Thus, ensuring every component is created with extreme accuracy and consistency is essential for the aerospace industry. To this end, achieving such accuracy and consistency is only possible through precision machining.
Additional Fabrication Services
In addition to our precision machining for Charleston SC, SMF Inc. specializes in numerous metalworking operations. Our goal is to provide our clients with the widest range of services possible, so we can always offer metal fabrication to your exact specifications. Our fabrication experts are masters in: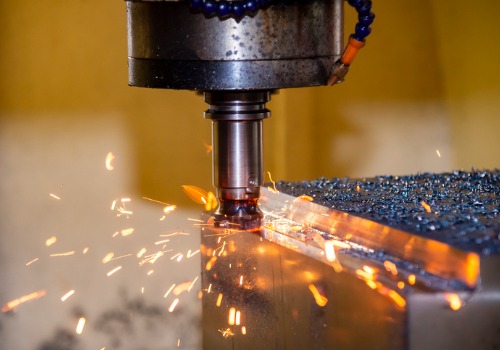 Give Us a Call
To maximize your facility's production, allow SMF Inc. to manage the production of your toughest, most precise components. Call today to ask about SMF's precision machining for Charleston SC. Or, learn more about our company and additional services by calling 864-226-0470. SMF has two facilities in South Carolina and Illinois, serving clients throughout the United States.