Do You Need Plasma Cutting In Chicago IL?
If you are looking for an experienced metal fabrication and machining company to perform plasma cutting in Chicago IL, look to SMF. As a one-stop metal fabrication and machining shop, we can handle any size of job.
How Does Plasma Cut Through Metal?
Plasma cutters work by sending an electric arc and gas through a constricted opening to form plasma. Plasma, a fourth state of matter that is distinct from solid, liquid and gas, is a superheated matter. Harnessing it with a plasma cutter makes for a fast and efficient way to cut through metal.
Why Choose Plasma Cutting?
If you need smooth, detailed and accurate cuts, a plasma cutter serves as a great choice. Because the edges of metal cut with a plasma cutter very often require no additional finishing work, it's a method that can save you time and money. Some advantages of plasma cutting include:
The variety of metals plasma cutting can handle includes carbon steel, stainless steel, aluminum, copper alloys and more.
A plasma cutter can handle sheets of metal up to 1.5 inches thick.
Plasma cutting makes for a more cost-efficient process compared to many other options.
Plasma cutters work on any conductive metal.
Are There Disadvantages To Plasma Cutting?
In-house safety is of heightened importance when working with plasma cutters. Our workers are well-trained professionals who follow stringent safety rules to avoid fumes, high levels of noise and the danger of burns. Safety is very important to us.
What Industries Does SMF Serve?
We serve a number of different industries, including:
Mining
Pump and compressor
Automation and robotics
Oil and gas
Agriculture
Aerospace
Medical
Industrial
Power generation
Renewable energy
Construction
Rail
What Complementary Machining and Metal Fabrication Services Does SMF Offer?
We are a one-stop shop that can handle just about any kind of metal fabrication and machining you might need, in addition to plasma cutting in Chicago IL. Some of our other services include:
Saw cutting
Forming
Powder coating
Assembly
Blasting
Retail steel sales.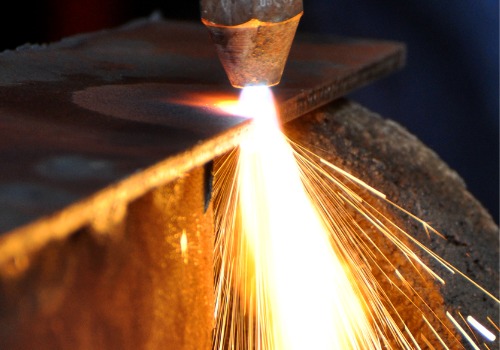 Ready To Get Started?
No job is too large or too small for us. If you're interested in our plasma cutting in Chicago IL, as well as our other fabrication and machining services, call us at 309-432-2586. We are headquartered in Illinois but have an additional campus in Anderson, S.C., enabling us to service clients throughout the United States.