Do You Need Welding Service In Charleston SC?
If you're looking for professional welding service in Charleston SC, look to SMF. Our crew of certified welders routinely handles jobs large and small. Because our team has significant experience serving clients in a large variety of industries and also handles other metal fabrication services that complement our welding, you can trust us as your one-stop shop.
Does SMF Perform All Types Of Welding?
Our certified, skilled welders handle all welding types, including TIG (Tungsten Inert Gas welding) and MIG (Metal Inert Gas welding) as well as spot-welding.
Are Robotic Welding Services Available?
Robotic welding is ideal for jobs that require precise welds. Our professional welders oversee our programmable, mechanized robotic welding, allowing us to perform extremely precise work.
Does SMF Have Experience In Many Industries?
We have clients in a number of industries, including:
Aerospace
Medical
Industrial
Oil and gas
Agriculture
Power generation
Renewable energy
Construction
Rail
Mining
Pump and compressor
Automation and robotics
Does SMF Have Experience Welding Parts and Tools?
We weld parts, tools and equipment for all kinds of industries. Some examples of things we commonly weld include:
Pipes
Metal columns
Platforms
Joints
Tools
Brackets
Steel beams
Metal frames
Parts
Does SMF Offer Related Metal Services?
Metal fabrication often requires complementary metal services. As full-service fabrication and machining experts, we also offer a number of types of metalwork so we can serve as your one-stop shop. These services include:
Machining
Assembly
Plasma cutting
Saw cutting
Blasting
Forming
Powder coating
We also sell steel.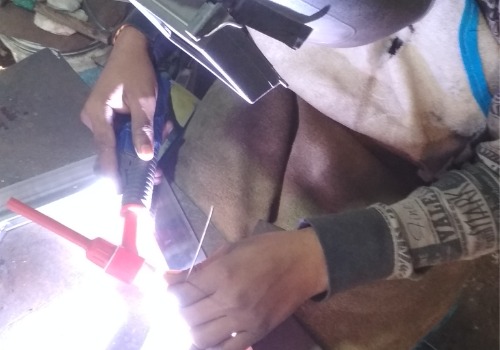 Let's Work Together!
Let's talk about what our welding service in Charleston SC, as well as our other fabrication and machining services, can do for you. Give us a call today at 864-226-0470. No job is too large or too small for us. We are headquartered in Illinois but have an additional campus in Anderson, S.C., enabling us to service clients throughout the United States.