Trust SFM for the Best Laser Cutting in Columbia SC
You probably already know that SMF offers high-quality laser cutting in Columbia SC, but that's just the beginning.
Did you know we also offer a full range of other metal fabrication services? Chances are good that we can provide everything you need to finish your job under one roof.
Why You May Need Laser Cutting in Columbia SC:
As a full-service metal fabrication and machining company, SMF offers multiple cutting options besides laser cutting, including plasma cutting and saw cutting. Each method offers pros and cons. Laser cutting may be the best choice when these qualities are required:
Accuracy: The laser cutters at SMF are capable of making the most precise cuts of any technology available today.
Complexity: Laser cutters are ideal for complex and custom cuts.
Speed: Our laser cutters use advanced technology and automation, making it possible for us to run jobs in just a fraction of the time needed by other methods.
Can SMF's Laser Cutter Accommodate Larger Jobs?
Our laser cutters are among the largest in the country. With a cutting capacity of 54' long and 12' wide, our laser cutters can handle almost any project.
What Sets SMF's Laser-cutting Services Apart?
Just providing excellent laser cutting and metal fabrication services is not enough. We pride ourselves on our service and professionalism as well. If you need laser cutting in Columbia SC, you can trust SMF to deliver – on time and to your exact specifications.
What Additional Metal Fabrication Services Are Available?
Let us know if you require any additional services besides laser cutting in Columbia SC. We can handle all of the following:
Welding
Machining
Forming
Powder Coating
Assembly
Plasma Cutting
Saw Cutting
Blasting
Retail Steel Sales
What Metals Can SMF's Lasers Cut?
Our laser cutters can handle most metals, including these:
Aluminum
Brass
Stainless steel
Titanium
Copper
Many other materials – just ask!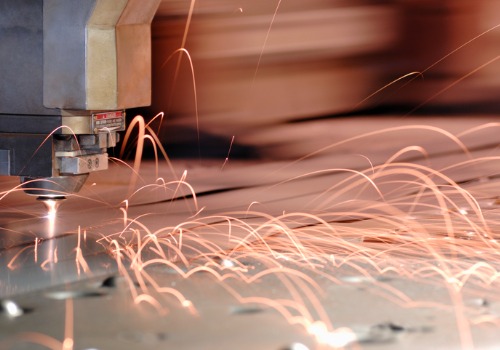 Are You Ready to Work With Us?
Let's talk about the full range of services we offer at SMF, including laser cutting in Columbia S.C. as well as any other cutting and fabrication services you may need. Contact us today at 864-226-0470. Headquartered in Illinois, we serve clients throughout the United States.